Frequently Asked Questions
Is Military Medical WebEx Exhibition or a Congress?
---
Military Medical WebEx is an exhibition which shall take place on the video conferencing medium.
As is the case in any exhibition, Military Medical WebEx will take in several, namely 5 separate sessions.
---
How will we get our stand in the Military Medical WebEx?
---
In Military Medical WebEx, we will allocate meeting rooms to you where you will have private meetings. In these rooms, you can exhibit the number of products equal to the number of screens you have, carry out corporate presentations or video shows.
To buy your exhibition stand, just select one of the packages in the www.militarymedical.com.tr and contact selin.zace@capitalexpo.com.tr or yasemin.toguc@capitalexpo.com.tr.
---
Can I upgrade my Package during Military Medical WebEx?
---
Since your entire meeting programs are organized on the time basis during the exhibition, package upgrading is not possible. You can neither increase the number of meetings nor extend the meeting duration.
---
How long each meeting at Military Medical Web lasts?
---
Each meeting lasts 15 minutes.
Only Platinum Web Exhibitor meeting last 30 minutes
---
Can I get extra time if the meeting duration is not sufficient?
---
It is not possible to extend time if the meeting duration is not sufficient, since the meetings are pre-scheduled.
As all communications will be mutually shared in the meetings, you can organize a non-scheduled meeting with the party with whom you should continue your meeting, if you request.
---
How shall we exhibit our products at Military Medical WebEx?
---
While talking to a Military Supply Party in your meeting room, you can exhibit your products through one camera and talk to them through the other camera.
The cameras available, depending your preference, are your computer's webcam, your phone camera or a professional one. The cameras can even be mobile, subject to your choice.
---
How shall we carry out the presentation at Military Medical WebEx?
---
On the meeting screens, there is a tab which will turn your computer screen into the one monitored by the party you are meeting. When you click that tab, you can carry out presentation for your company and services, and play your videos.
---
How will you provide technical support?
---
We will provide information with each participant prior to the exhibition in relation with the use of Military Medical WebEx.
---
What if there is a technical failure while meetings are continuing?
---
Throughout the two days, our team dedicated to technical sustainability of the meetings will be available, and will provide any support related to the program unless the participant has a web access problem.
---
How will we organize meetings at Military Medical WebEx?
---
1. The participant list will be shared as each registration is final, while the finalized list will be shared on 30th May.
2. The participant companies will transmit the list of parties to whom they would like to meet in line with the participant package they have purchased.
3. Organizers will share the meeting schedule finalized according to requests with the participant on 7th June.
4. The meetings will take place using the meeting room, user name and password provided to the participant at meeting times.
5. The Meeting time will be arranged according to the local time of the delagation interviewed.
---
Are the meetings monitored and recorded by the Organizer?
---
At Military Medical WebEx, your meetings cannot be monitored by the Organizer.
At Military Medical WebEx, meeting rooms cannot be recorded by the Organizer.
The Organizer can only record the 5 sessions.
---
Shall we be returned our participation fees if meetings do not take place?
---
If a meeting does not take place due to a technical failure caused by the Organizer, the fees paid for non-occurring meetings will be returned by the Organizer to the participant.
How shall I visit the Exhibition? The Meetings are limited to 1.000 accounts.
The registration fee is 19 USD until 15th May 2020, it will become 39 USD after that date.
You can register through www.militarymedical.com.tr.
As Web Exhibitor, the participants will provide visitor records at a number of accounts corresponding to their packages.
---
What can I benefit as an Exhibition Visitor?
---
You can attend 5 main sessions listed in the exhibition schedule.
You can receive exhibition catalogue.
You can have access to the list of exhibition participants.
---
Will there be Questions & Answers (QA) at the sessions?
---
There will be no QA at the exhibition meetings.
---
Will Military Medical WebEx be live broadcasted?
---
Military Medical WebEx will transmit the meeting only through its software, while no TV or social media live broadcast will take place.
---
Will the time difference cause a problem for the meetings?
---
TR time zone is quite attractive compared to other time zones. Furthermore, in an effort to avoid any trouble, London timezone shall be taken as the base in the meetings.
---
Will there be translators at Military Medical WebEx?
---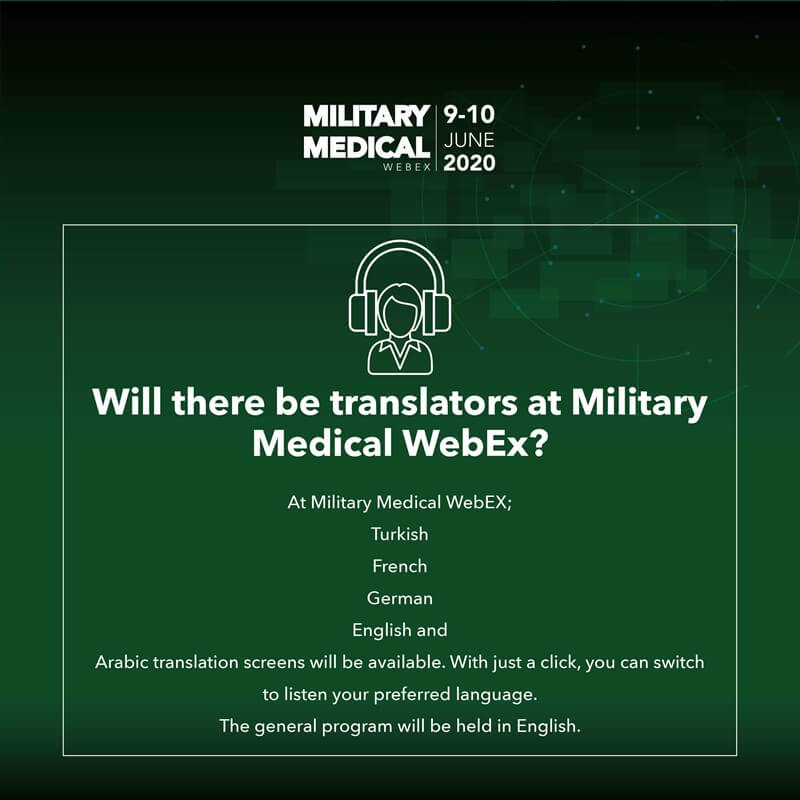 At Military Medical WebEX;
Turkish
French
German
English and
Arabic translation screens will be available. With just a click, you can switch to listen your preferred language.
---
Is there a possibility of postponing Military Medical WebEx due to Covid-19?
---
As long as the world wide web infrastructure is available, Military Medical WebEx will take place and will not be postponed.
---
---